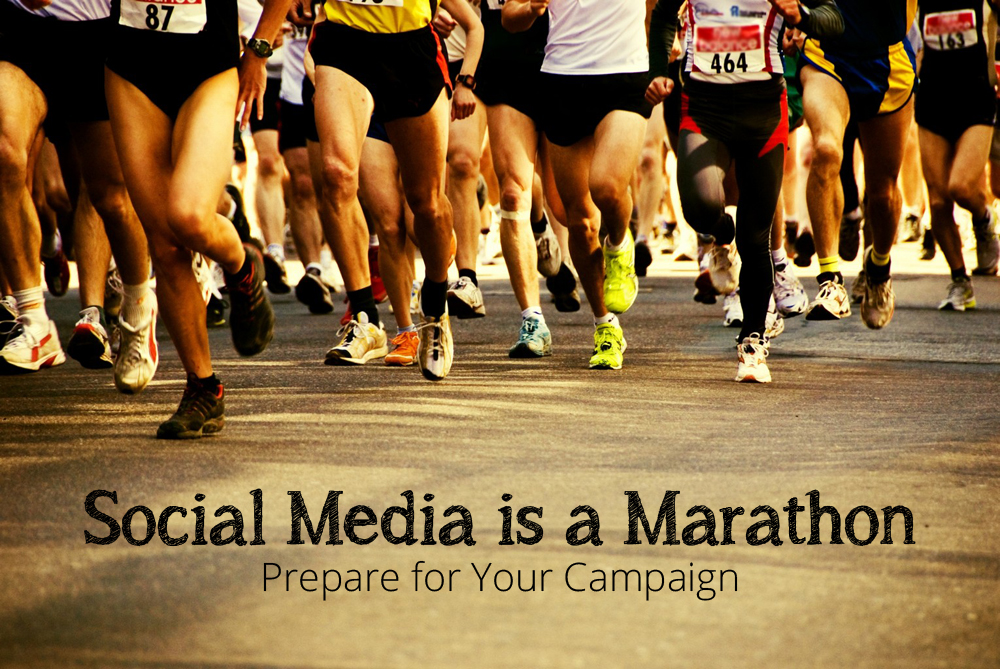 Social Media is a Marathon, Prepare for your Campaign. Running daily, training for races, and preparing for a marathon reminds me of implementing a Social Media strategy.
Just like when you begin training for a 5k, you can't lace up your shoes and expect to win a race. You have to start slow until you can build your stamina. This is the way to begin your social platform as well.   From successfully launching and managing a variety of successful social media campaigns for my clients, I have learned that you must start daily, adding and creating highly focused content into the social channels that your customers participate in.
Today I'm going to share with you some of the similarities between preparing for a long race and launching a social media campaign that I've learned through implementing several successful campaigns for clients. Here are a few of them:
Do your Research, and Prepare.

Don't expect miracles unless you have little elves that work behind the scenes for you to develop your content, lay out your plan, and launch your content on your social channels. You must prepare and strategize a social media plan and content calendar. Just like a race, start slow, get the right tools, add progression slowly, and build up your online stamina as you go.

Learn who is on your Social Media channels. Who is out there? What are they saying? Are they influencers, reporters, customers? Know what they are saying about you and your industry. Research which #hashtags are most used by your industry and follow those too. Believe it or not, people are talking about you with or without your input.  Just like pacesetters in a race, align yourself and pay attention to pace and direction.
Do your Social Media posting daily!

You can't win a race if you don't train every day. You can't gain a following unless they know you are there. So post daily on at least one social media channel. Even better? Post to all of your channels daily and let your customers know you are there for them.  Don't always talk about you though..we all know that gets tiring.

Remember to show up!

Show up every day, be consistent, and progress in turtle steps. You can't win if you don't train. There will be good days and bad days but show up and do the work and you will see the rewards

.
It is the Journey not the Destination. There is no finish line with Social Media.

It is about building a following, communicating with customers, sharing your story, and developing relationships. It is about showing up for your business, and all those you hope to serve with your business. as your list grows to 100 or 1,000 followers you will be developing relationships with clients, employees, applicants, prospects, reporters, bloggers, elected officials and others who can provide insights into your organization and industry and become advocates for your and your business.  Be responsive, be kind, and most of all respect your followers, and work hard to enhance their experience with you and your brand.
Social Media will continue to grow, and morph into other channels of connection as well. The new way to do business is in connections and relationships – the new relationship management. If you do not have a social media platform, or your social media platform is not up to par with what you would like it to be – now is the time to develop one. If you would like a free audit or appraisal of your Social Media presence, need advice, or would like us to handle it for you – Please contact us at Socially Bold. We are here to help you succeed!