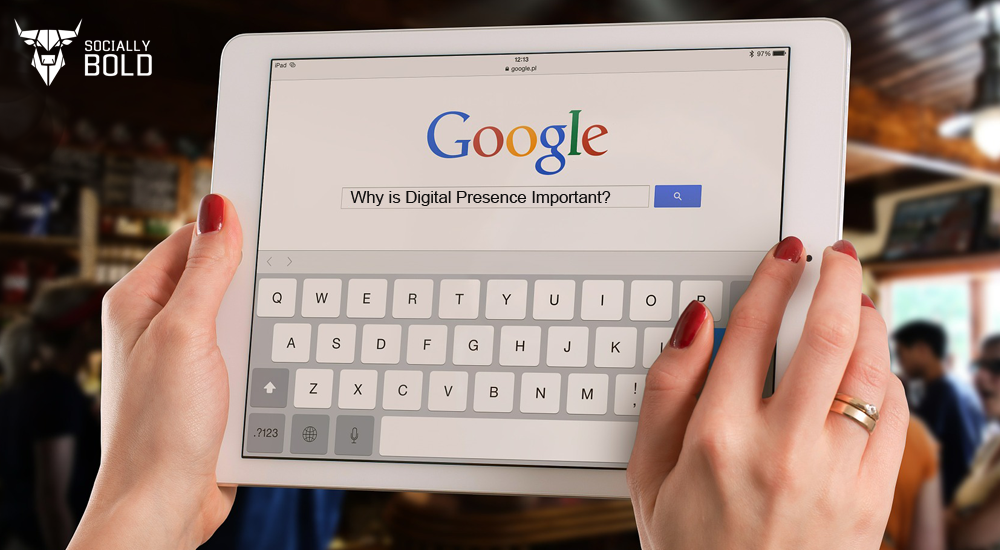 With more than 80% of consumers doing their research online and on their mobile devices, digital presence is more important than ever before. If a business can't easily be found using a quick mobile search, the customer will go elsewhere. An ideal marketing strategy allows customers to not only do business with a brand with ease, but to find them quickly as well.
Why is it important for businesses to have a digital presence today?
Digital presence gets brands' names out there.
Think of a business's digital presence as its modern-day Yellow Page ad. However, instead of only being allotted 7/8ths of a page directly next to its top competitors, the business get to curate its own content and drive internet traffic exactly where it want its customers to go. But first – it must be found. Businesses must ensure that their name is listed on all of the largest and most relevant search engines, online directories, and data aggregate sites. Having a consistent listing across the web will allow search engine algorithms to identify the business as a strong match to search keywords and list its page higher in local search results. Make sure to verify the business's location with Google and Google Map to ensure that it can be found on local searches.
Search Engine Optimization (SEO).
SEO, otherwise known as search engine optimization, relates to how a website ranks in a search engine's organic results. The following are just a few tips for improving a business's SEO:
Publish listings

– create business listings on as many online directories and websites as possible.

Use keywords

– keywords function like online business cards and are the best way to drive traffic to a website.

Publish quality content

– consistently publishing blog posts on a company website and writing about topics relevant to the business that the audience will care about improves SEO by keeping the site fresh and up-to-date.

Get Social

– Having a social media presence that links back to the business's main website improves its online ranking and provides multiple avenues through which customers can discover it.
Design a cohesive, user friendly website.
If a customer can't navigate a site, they will quickly leave it. Everyone is busy, so make it easy for customers to navigate the website and find what they want by keeping keywords relevant and website interface simple. Mobile web browsing is taking the world by storm. Ensure that the website is mobile optimized and mobile responsive so users visiting the site from a mobile device can still easily find all of the information they need.
Create social media accounts that align with the brand.
Everyone knows how important social media presence has become, but are businesses posting to the right networks? For businesses that sell to other businesses, adding Twitter, Linkedin, and Facebook to the company website and posting regularly is a must. For stores that sell home decor, it may be beneficial to post on Houzz, Instagram, Pinterest, and Facebook. Think about the customer. What social media platforms do they use? What are they asking? How can the business be of help? Once these questions have been addressed, the business can rest assured that its customers will be appreciative and become not only their clients, but also their followers.
Maintain a Presence.
The internet is never one and done. It is a medium that is constantly growing, changing, and evolving. Make sure to stay engaged, answering questions, expanding digital presence, and engaging with frequent customers. 53% of small businesses now use social media as their platform for customer service and support. Don't get left behind!
The world wide web is your oyster, but you have to participate in order to get the pearl.
Have fun!
---
Socially Bold is a digital marketing firm located in Jacksonville, Florida providing marketing services to small to mid-sized local businesses.  Specializing in social media and content marketing, Socially Bold focuses on aligning with clients, the 'Socially Bold Community', to deliver innovative ideas and translate those into refreshing results.  For more information about Socially Bold, visit sociallybold.com.  Join the #SociallyBold conversation on Twitter @sociallyboldjax, Facebook @sociallybold, Instagram @sociallybold, Pinterest @sociallybold or Google+ @sociallybold.