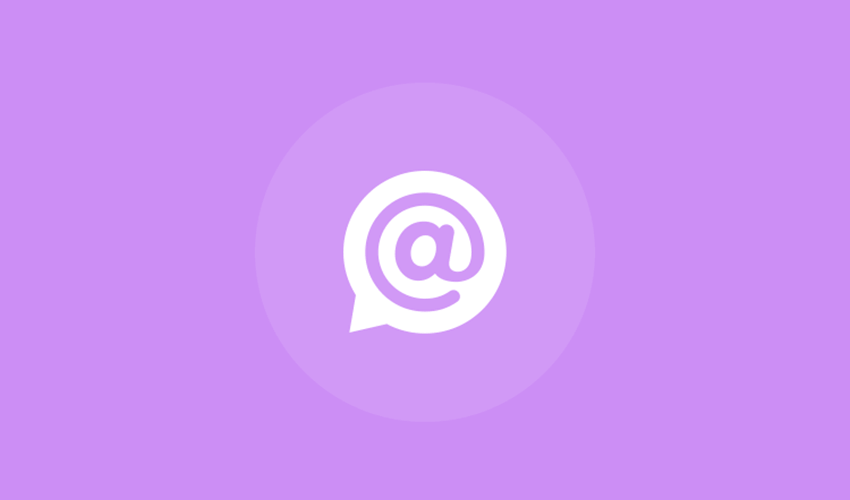 A couple weeks ago, Twitter unveiled the latest edition to its long list of marketing-friendly resources, geared towards attracting and retaining the growing number of brands that want to advertise and gain awareness on social media. The new Engage app offers real-time data and insights into audience and follower behavior that will allow influential accounts to better understand their most influential and loyal followers while also sharing key account statistics. Whether a business has 10,000 followers or 100, it certainly pays to understand which are the most loyal and what type of content they will most want to see. Here's a quick run-down of the application to get started:

Engage has three tabs, the first being @Engage. Here, users can view their number of followers in the header, along with three tabs to sort out top engagement, mentions, and interactions with any verified followers. Whereas the official Twitter app's mentions are located within its Notifications tab and can get lost among retweet, favorite, or new follower alerts, @Engage only displays tweets and replies that involve the account, making it perfect for businesses that aren't interested in scrolling through notifications for anything besides mentions.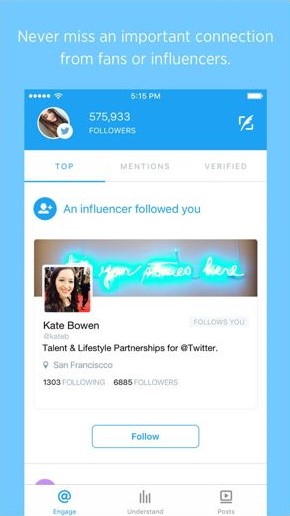 The second tab is Understand. Here, users can view the number of likes, retweets, mentions, and impressions (views) that they receive live. Right below this data is an adjustable timeframe that can be changed to view anything from the past 24 hours to 90 days. For the first time, Twitter users can know exactly when people are liking and retweeting their content, in addition to having access to bar graphs that feature the percent increase or decrease in engagement over the selected timeframe. Keep in mind, however, that data will only be displayed for as long as the app has been installed, so if business began using the app a week ago, it cannot view live interactions any further back than a week. Brands can also access their audience demographics—namely their followers' locations and gender—in this tab in addition to a list of hashtags that they're currently tweeting about. These features allow businesses to better pinpoint their audience and easily discover hot topics that will catch their followers' eyes to integrate into their tweets.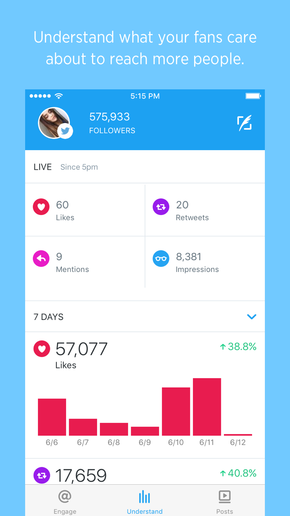 Finally, the Posts tab contains three categories—Video, Photos + Gifs, and Other (which often consists of regular tweets). Here, the lifetime number of engagements and impressions can be viewed, followed by a graph of the tweets' statistics on a bar graph. Scroll down a little further on each post and a list of all its replies will be viewable. This tab is great for easily tracking a single post's engagement over a period of time.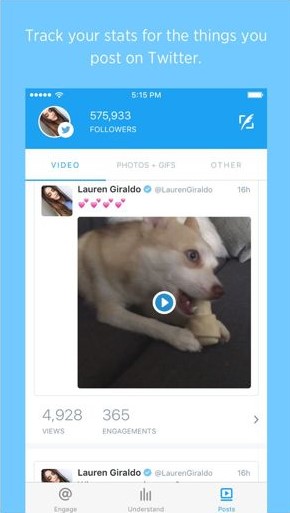 In all three tabs, clicking on the account's avatar in the left-hand corner will reveal the list of accounts connected to the app, along with a Sign Out button for the account currently in use. Users can also change which notifications they receive, and access the Help page, which provides more information about the app. Tweets with text, gifs, photos, videos, and polls can also be created directly from the app, allowing Engage to function as an alternative to the official Twitter app for anyone interested solely in engaging their followers and not having to see their timeline or trending topics.
Tracking audience demographics and engagement on Twitter, where users tend to be selective about the information that they give out, has been a challenge in the past, but with Engage, finding influential followers and targeting followers has never been easier. For more tips on using Twitter for business, visit https://www.sociallybold.com or call (904) 574-9775 today!
---
Socially Bold is a digital marketing firm located in Jacksonville, Florida providing marketing services to small to mid-sized local businesses.  Specializing in social media and content marketing, Socially Bold focuses on aligning with clients, the 'Socially Bold Community', to deliver innovative ideas and translate those into refreshing results.  For more information about Socially Bold, visit sociallybold.com.  Join the #SociallyBold conversation on Twitter @sociallyboldjax, Facebook @sociallybold, Instagram @sociallybold, Pinterest @sociallybold or Google+ @sociallybold.