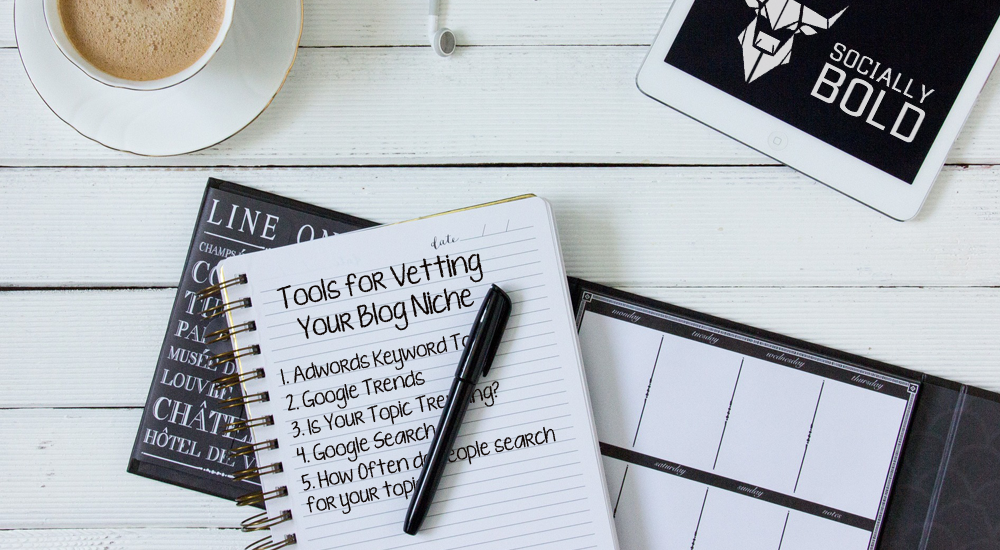 When I started my first blog I had no idea what to write, who to write to, or who my blog niche market was. So, I picked a general topic on finding inspiration, and creative thinking and started the blog. I accumulated a few followers at first, but eventually the readership just sort of dropped off. After doing some research, I figured out my problem:  I was writing about everything, with no focus, and no target market.
I learned that in order to start a blog, there are some necessary steps (research!) that must be taken on the front end. Here are a few vetting tools that I use in my research that may be useful to you:
What keywords are most popular?

Sign up with Google as an

advertiser

. Once you have created an account, click through to the

Keyword Tool

.  Put your name, phrase, or niche market in the search box and the keyword tool will give you an indication of how many people searched for that keyword in the past month, and how many are using it for advertising. This is a great way to determine the most-used keywords to make sure that you (and your blog!) get noticed.
Is your topic trending?

Google trends is amazing for finding out if your niche is trending, does not have followers, or is breaking out. Simply type your topic into the search bar and

Google Trends

will give you information about interest over time (is your topic becoming increasingly more popular or falling off the radar?), interest by region (what areas should you be targeting?), and related searches.

Google Trends

even allows you to search topics by region, time period, and category so you can determine interest specific to your audience.
Do Google Ads appear?

Type the niche, word, or article name into the

Google Search

bar and see if any advertisements appear. Googles Ads are indicated by a small yellow "Ad" icon to the left of the content. If at least two advertisements show up for your search, it can be considered a good topic.

Are there other blogs with your topic?

Enter your blog topic and search to see how many other blogs are being written on the topic. If there are at least five additional blogs about the same topic you've discovered a good niche to go into.

How often are people searching for your topic?

Type your topic into the Google search bar and see how many searches have been done on your niche, keyword, or article idea. If you see the searches are strong you have a good topic and niche.
When you're working through the initial vetting process, remember to ask yourself a couple of questions to determine if the niche you have discovered is right for you.
Is this a topic that you're well-versed in?

It's important that you choose a blog topic or niche that you are truly passionate about. If you pick a topic based on popularity over knowledge, you may end up burnt out or run out of ideas to sustain your blog for the long run. Blogging is FUN. Pick something that you enjoy and your customers will enjoy reading!

Are there certain topics that people often ask for my advice or expertise?

Even if it isn't yet clear to you, your audience may have already identified an area of expertise for you! Think about topics that people often ask for your advice. This is often a great way to determine your strengths and identify potential niches.
These are just a few of the tools that are fantastic for determining and researching your niche to see if it has potential for readership. It helps to do the research up front to find your target market, voice, and what your customers are looking for or what they need. If you don't have time to research or write your blog posts let us do it for you. We research, vet and write each article for every customer, then link it through to a planned social media strategy.
---
Socially Bold is a digital marketing firm located in Jacksonville, Florida providing marketing services to small to mid-sized local businesses.  Specializing in social media and content marketing, Socially Bold focuses on aligning with clients, the 'Socially Bold Community', to deliver innovative ideas and translate those into refreshing results.  For more information about Socially Bold, visitsociallybold.com.  Join the #SociallyBold conversation on Twitter @sociallyboldjax, Facebook @sociallybold, Instagram @sociallybold, Pinterest @sociallybold or Google+ @sociallybold.