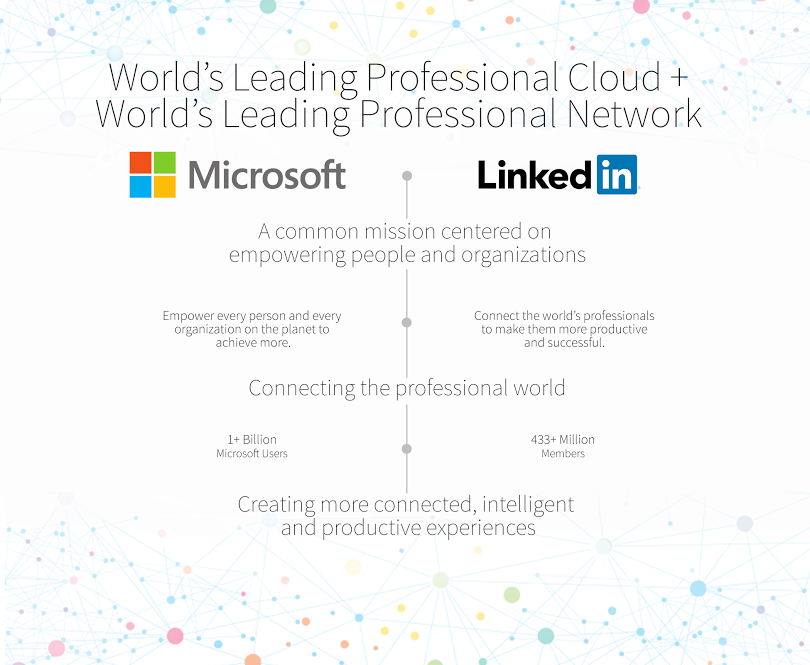 On Monday morning, one of the largest technology companies in the world announced its biggest deal yet. For a price of $26.2 billion, Microsoft bought the professional networking website LinkedIn with the goal of creating "more connected, intelligent and productive experiences." While Microsoft's shares have fallen since, its acquisition of one of the world's largest social media networks is unsurprising, given CEO Satya Nadella's shifting focus from hardware and software toward innovation and enterprise.


What does this mean for LinkedIn's current user base?

While change will certainly come, it won't be immediate or overwhelming. In a letter to Microsoft staff, Nadella maintained that "LinkedIn will retain its distinct brand and independence, as well as their culture which is very much aligned with ours." At the same time, LinkedIn CEO Jeff Weiner has highlighted Microsoft and LinkedIn's "virtually identical mission statements" as a sign of the companies' similar purposes and emphases on empowering and connecting professionals.
Microsoft can expect to benefit from the deal with an expanded market for Microsoft Office products and software, while helping LinkedIn users become more productive in the process. LinkedIn, too, can expect to see a greater market for its products, particularly in regards to its recent acquisition, the online video training service Lynda. As a result of today's deal, LinkedIn hopes to ultimately incorporate Lynda videos into Microsoft products, staying true to the the companies' goals of connectivity and professionalism.
While this massive deal promises many new opportunities to come, Weiner has highlighted a few features that will undeniably shape the social platform in the future.
Incorporation of LinkedIn and Lynda into Microsoft products such as Skype, Office, Windows, and Bing.

Expansion of LinkedIn and Microsoft's reach in the human resource sector with new hiring and managing features for employees.

The ability for LinkedIn's Sponsored Content customers to contact Microsoft users with ease.

New subscription opportunities for "freelancers and independent service providers" that use Microsoft to run their business.
With so many new changes coming to the world's largest professional social network, it's imperative that businesses learn how to adapt and utilize LinkedIn's many resources and features. Contact Socially Bold today at 904-574-9775 or visit our website, https://sociallybold.com, for help staying on top of your business's social media platforms in an ever-changing world. #WorldlyWednesday
– Written by Caroline Bauer
---
Socially Bold is a digital marketing firm located in Jacksonville, Florida providing marketing services to small to mid-sized local businesses.  Specializing in social media and content marketing, Socially Bold focuses on aligning with clients, the 'Socially Bold Community', to deliver innovative ideas and translate those into refreshing results.  For more information about Socially Bold, visit sociallybold.com.  Join the #SociallyBold conversation on Twitter @sociallyboldjax, Facebook @sociallybold, Instagram @sociallybold, Pinterest @sociallybold or Google+ @sociallybold.